Is There Nothing That Obama Can't Do?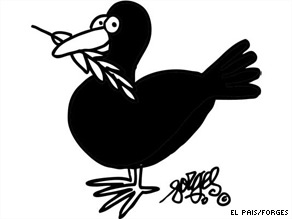 *
Not since Yasser Arafat has there been such a deserving recipient.
"The big question is, who nominated him. Vladimir Putin, Mahmoud Ahmadinejad or Mullah Omar?"
Related juxtapose!
AP - And Obama's decision to shelve a plan for installing an anti-ballistic
missile system in the Czech Republic and Poland has improved relations with
Russia.
London Times - Last weekend, Israel leaked to the Sunday Times of London that Russian
scientists are developing nuclear warheads for Iran.
h/t Tom
Or on second thought, it might just be a tragic typographical error - "I was just listening to the radio and the announcer said, what sounded like, "Obama has been awarded the Nobel Speech Prize."
Can the Cy Young award be far behind?
Plus - If you criticize the decision, the terrorists win!

Posted by Kate at October 9, 2009 10:42 AM